Beaver County Radio is proud to serve local programming to the Beaver County Area.
Recent Updates
Wilson, Reynolds, Romigh, Shovlin and Nuzzo.  Just some of the hometown names that have made Beaver County Radio great for nearly seventy years.  The tradition continues with Pat Septak,  Greg Benedetti, Frank Sparks and Matt Drzik.  Tune in for authentic local community radio on 1230 WBVP and 1460 WMBA.
Live and local community radio.  Al Goehring, Pat Septak and Mike Romigh talk about Beaver County news, sports, current events, politics, and information just the way you remember it from the Lachina Drapery and Blind Factory Studio.  It's Broadcasting the way it ought to be, and just the way that made radio great way back when.  Discover local radio that's still done with a passion –  Beaver County Radio.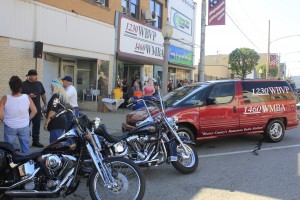 The 2015 "Run For McGuire, A Special Ride For Special People." was held on July 25, 2015. Over 100 participants helped raise thousands to help support the mission of "Inspiring Hope and Fostering Growth" at McGuire Memorial.